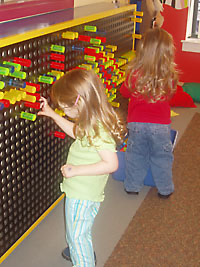 Pediatric Occupational Therapy
Serving Infants, Children and Adults in the Upper Valley and Lake Sunapee region of New Hampshire.
Welcome to OT in Motion
We are a privately owned occupational therapy clinic focused on serving the pediatric population from birth to 18 years old. We're located in Sunapee and  provide services to the Upper Valley and Lake Sunapee regions of New Hampshire. 
Through specialized treatment, purposeful movement, and meaningful play experiences all people are capable of learning or re-learning much needed life skills.
OT in Motion was founded in 2009 by Occupational Therapists Janet Correia and Jan Halley. Both are licensed with the State of New Hampshire Occupational Therapy Governing Board and certified with the National Board of Certification for Occupational Therapy [NBCOT]. 
The clinic was founded to fill a community need to reach children and adults who display unique challenges and learning styles that are not otherwise being met through existing programs and services.

Please call us to arrange a visit to OT in Motion – we'd love to meet you and can help you evaluate which of our programs is a good fit for your needs.